Quit Cigarettes in 60 min
UA-9679810-2
Nothing to Fear Your Life to Gain
Sick and tired of being an out cast having to go out side to smoke? Even in your own home.
Tired of the high price of Cigarettes? constantly on the increase
Tried other things to stop and nothing has worked?
Worried about your health and others around you that are getting your smoke? Including your Pets.
Are you ready to give up completely right now?
Phone me now to find out how… or to send you a flyer.
It only takes 60 minutes to quit cigarettes. Ask me now.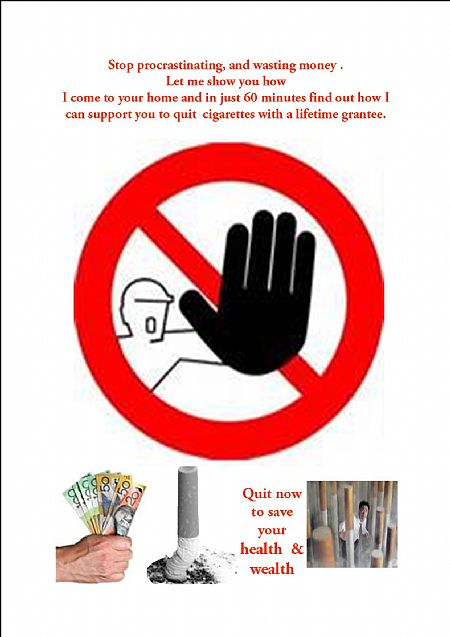 A statment from Graham for your information,
I started with a taste of sweet sherry from a crystal decanter in mums cocktail cabinet, when I was about five. Early mornings after dad's staff parties the previous night, would experiment tasting the left over's.
By fourteen I could drink 750 ml. of beer at a time. By sixteen I had been drunk a few times, I felt grown up. I kept drinking because I was part of society and I enjoyed the feeling. At twenty five I was drinking a little every day and I got drunk sometimes.
It became a habit, I would drink wine almost nightly. Then at four pm. I became uneasy, I had a little one, until I lost count. This went on, gradually increasing, for about fifteen years.
I decided to cut back for a day or two, then I would drink more, as if I had to catch up.
I now felt I couldn't live without alcohol, but it didn't matter because I could hide the degree, and my wife and friends wouldn't really notice.
Well Pia talked with me for a long time. She offered to help me if I really wanted to stop. No I would cut back, still enjoy it, but stop before I went too far. That's fine, that's the plan!
"No you can't do that, you have gone too far."
Eventually I agreed. Pia talked ,I listened and it worked.
I haven't drunk alcohol for over three years, I don't have the cravings, and I will never drink alcohol again.
Pia I can't thank you enough. You helped me save my marriage, my social life , and increased my health. I can now go out at night, I can do hobbies and the money is now spent more fairly.
What you did for me is amazing. You can help anyone, they only have to really want to and trust you. You can show anyone with any addiction to live comfortably without that problem.
I'm ashamed of my previous behaviour, and only confess to show that the seemingly impossible is easy with the right attitude and Pia's expert guidance.
I hope Pia show's this letter to all those that see their problem. With her help the problem is no more.
Graeme Kirkwood
Tasmania. 26/4/2013
Now living in Perth happily with his wife and family.